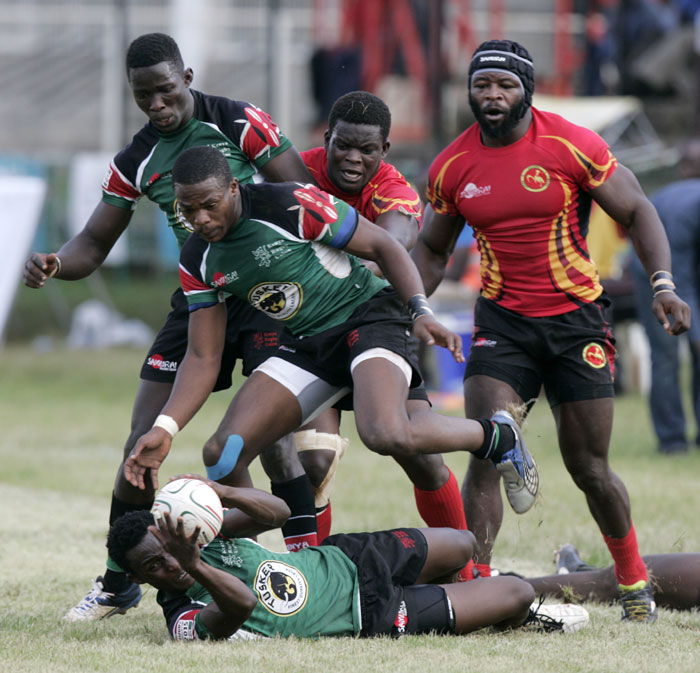 Man-of-the-match winger Darwin Mukidza on Saturday scored a hat-trick of tries, five conversions and a penalty as Kenya Simbas mauled Uganda Cranes 48-10 in the first leg of 2016 Elgon Cup at Legends Rugby Club in Kampala.
Dominant Kenya touched down seven tries, with centre David Ambunya, fullback Vincent Mose, fly-half Nato Simiyu and back-row Mike Okombe contributing the other tries.
CONVERTED TRY
Kevin Makmot converted Byron Oketayot's try for Uganda while Philip Wokorach slotted over a penalty but the hosts who trailed 10-29 at the break couldn't match the highly tactical Kenyans.
The victory saw Simbas carry a big advantage to the second leg due July 30, enhance their chances of reclaiming the title Kenya's second-tier team lost to Cranes last year.
Kenya "A" lost to Cranes on 45-47 aggregate last year.
After Kampala, the Simbas will travel to Rio de Janeiro for a Test match with Brazil on June 18 before embarking on a back-to-back Africa Cup Division 1A campaign against Zimbabwe and Namibia on July 9 and 16 in Harare and Windhoek respectively.
"Our game was good throughout as we had prepared well. We controlled the tempo, which gave us an edge since we were able to use our backs and forwards well," said deputy coach Dominique Habimana.
However, the battle for the region's bragging rights will take place in Nairobi on July 30 when the Simbas welcome Uganda for an Africa Cup fixture that will also double up as the return leg of the Elgon Cup.
The Simbas will then have two crucial tests against Hong Kong on August 23 and 27 respectively in Nairobi. Kenya is also likely to play Romania in October in what will be their last outing this year.
Last year, Kenya stunned Portugal and Spain 41-15 and 36-27 respectively in test matches last year to scale to 27th place, their best ever ranking by World Rugby. They finished third in the Africa Cup Division 1A behind winners Namibia and Zimbabwe.
Uganda won Africa Cup Division 1B contest last year to earn promotion to Division 1A but after yesterday's defeat, they will have a lot to work on before facing Kenya, Zimbabwe and Namibia.
Courtesy of Daily Nation