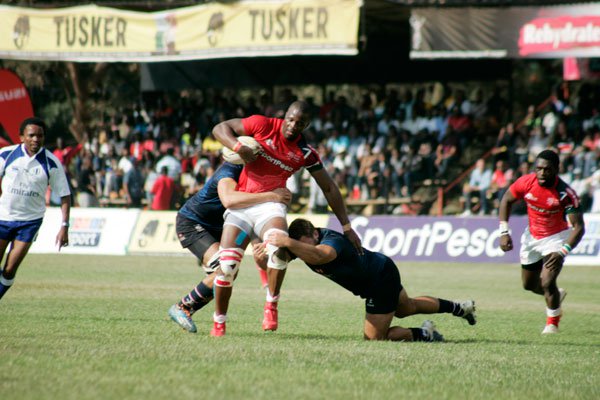 Reporting courtesy of the Nation


A tactical and clinical Hong Kong ran in four converted tries to humble hosts Kenya Simbas 43-34 in their second Test match at Rugby Football Union of East Africa grounds on Saturday.

The two teams had played to a 19-19 draw last Sunday where Kenya fielded an arguably weakened side.

Thus many were shocked by Saturday's result.

It was a sweet revenge for the tourists, who had lost to Kenya Simbas and Kenya "A" last year.

The two teams will face off again in November in Hong Kong in the Nations Cup tournament that will also feature Chile and Russian with both sides testing their squads ahead of their respective 2019 Rugby World Cup qualifiers due next year.

Hong Kong dominated in the set-pieces.

What made the difference is Matt Roslee's five penalties for the visitors in addition to making three conversions. Dayne Dans, Alex Wai-Shing and Kyle Sullivan landed the tries as the Dragons finally slayed the Simbas.

Darwin Mukidza was Kenya's kicker as Samson Onsomu, Davies Chenge and Tony Onyango scored for the hosts in the second half.

Roslee got the visitors in the score board with a penalty before Mukidza levelled with his boot.

Roslee would slot over two more penalties before Mukidza replied with one as the visitors led 9-6.

Sullivan landed the first try of the duel as Roslee converted to stretch their lead 16-6 at the break.

Another one of Roslee's penalty and a conversion saw the visitors break away 26-6.

Kenya made changes pulling out Dennis Karani, Philip Ikambili and Oscar Simiyu for Curtis Lilako, Peter Karia and Moses Amusala.

That failed to inspire the Kenyans when Wai-Shing landed for Hong Kong's third. The prodding Kenya would touch down for the first time via Tony Onyango as Mukidza converted.

Onsomu crossed the line as Kenya inched closer 20-33 but Roslee's penalty kept them on check but not for long as Chenge scored for Kenya with Mukidza adding the extras.

Hong Kong went lose again to score through Dan's try but Mukidza reduced the deficit again to just nine points as he converted his own try but time was not on the hosts' side as they host the match.
Courtesy of Capital FM