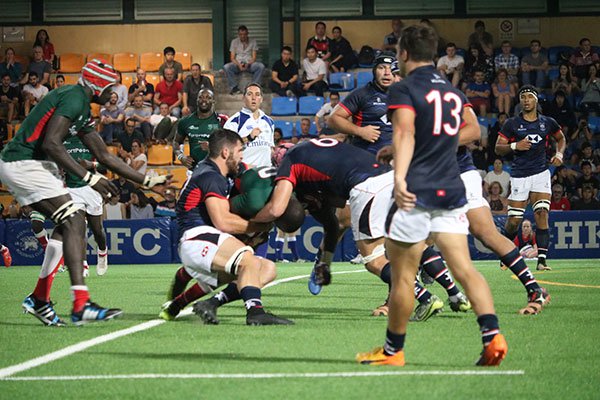 Additional reporting courtesy of the Nation
Kenya Simbas ended their Hong Kong Cup of Nations campaign on a sour note when they lost to the hosts 40-30 Saturday at Kings Park Sports Ground.
That saw Kenya finish last in the four nations championship, having lost all their matches as Russia retained the trophy for the third consecutive time, crushing Chile 42-11 for a clean run.
Conor Hartley's third minute try put Hong Kong ahead 5-0 as Toby Fenn went for another try that Matthew Roselee converted to stretch their lead 12-0.
Roslee was on the spot again with a penalty for 15-0 lead as the Simbas suffered a poor start what with their hooker Peter Karia sustaining an injury for Philip Ikambili to take up his position.
The Simbas would make some inroads in Hong Kong's territory to earn two penalties that winger Darwin Mukidza curled over as they closed in on 15-6. However, Lex Kalikan gave the hosts their third try to go 22-6 up.
Substitute Ikambili went over the white chalk for Kenya's first try that Mukidza converted to bring them back into the match 22-13 at the break.
A resilient Simbas went into the hunt on resumption with scrum-half Sam Onsomu scoring before Mukidza added the extras to see the Kenyans inch closer 22-20.
But Yiu Kam Shing dimmed Kenya's hopes of claiming the lead when he went for the touch down for a 27-22 lead. The thrilling end-to-end battle had substitute Vincent Mose play in winger Leo Owade to score and bring the Simbas to 27-25, two points shy of Hong Kong.
Hartley landed his brace as Roslee converted for Hong Kong to stretch the lead 34-25 only for second-row Oliver Mang'eni to respond straight from the restart to score.
Mukidza failed with the extras as Simbas closed in 34-30 with little left on the clock. The hosts added a penalty to hold a seven point cushion.