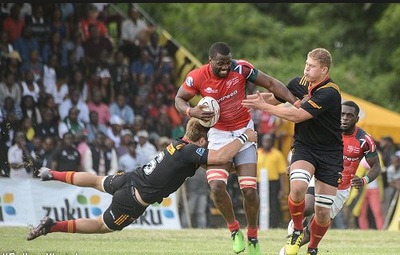 Germany fly-half Chris Hilsenbeck's last-gasp chalked curling drop goal from the left spurred Germany to a 30-29 victory over Kenya Simbas in a thrilling International Test match at the RFUEA ground on Saturday. The drop goal was supplemented by tries from skipper Michael Poppmeier, eighthman Els Jarrid and full-back Aounallah Harris.
Inside centre Parkison Raynor made one conversion for the visitors who trailed 12-10 at the break. Kenya Simbas scored four tries, made three conversions and a penalty as they fell agonisingly short in front of an expectant home crowd. It was Kenya's first loss at home since 2013 against Uganda in Elgon Cup. Flanker Eric Kerre, skipper Wilson K'Opondo, centre David Ambunya and scrumhalf Samson Onsomu scored Simbas tried. Mukidza kicked over the extras.
"I am happy with the results, this being the first game," said Simbas coach Jerome Paarwater. "I knew they would give my players a challenge in the scrummages and it happened." Paarwater said the match provided a good learning curve for the new players in the team as he builds a team for the Rugby World Cup qualifiers next year.
"I am happy they stood up well to the German scrum that has players who are 20kgs heavier than them." Paawater said the match has given them a hint on what to work on ahead of the Elgon Cup match against Uganda on June 10 in Kampala. "We shall need to play well especially at set-pieces and the scrums," said Paarwater. Germany coach Kobus Potgieter gave credit to Kenya for giving his team a good run. "It's not easy coming down from 10 points to win," said Potgieter, who advised Kenya to work on their set-pieces and scrums.
"I knew the Simbas were lethal and dangerous but a joy to watch with the ball at hand and that is why we resorted to kicking for touch them roll the scrum," said Potgieter. Parkison put the Germans ahead with a penalty but the Simbas turned on the style when eighth man Martin Owila sliced throw the Germany defence dished out a hand-off before putting Kerre through on the flank to score.
Mukidza missed the conversion. Another Kenya attack Fly-half Biko Adema orchestrated another Kenya attack through several phases from inside their own half before K'Opondo bursted through the middle to sprint 30m for a score. Mukidza converted to stretch the lead to 12-3. The Germany were tactical with three penalties they got. They also bossed Kenya in the scrummages and scored from one such move via Poppmeier as Parkison converted to inch closer 10-12 at the break. Kehoma landed to give the visitors the lead 15-12 after Parkison's conversion went wide.
Courtesy of the Nation