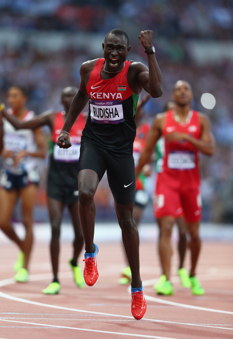 No country has produced as many excellent two lap runners as Kenya has. In fact if you look at a list of the fastest 800m runners in history, you will find that 50% of them are Kenyan.
However the one who stands out above all the rest is David Lekuta Rudisha. Rudisha is not just the greatest 800m runner ever, but also one of the greatest track athletes ever.
Rudisha's dominance of the 800m race is thorough and complete:
David Rudisha's Records
1. As of 2015, he holds the 800m world record at 1:40.91
2. As of 2015, he is the only person ever to run the 800m in under 1:41:00
3. As of 2015, he has run the 3 fastest times in the 800m
4. As of 2015, he has run 6 out of the 10 fastest times in history
5. As of 2015, he has run 10 out of the 20 fastest times in history
6. As of 2015, he has run the fastest time at altitude (1.42.12)
7. As of 2015 he holds the Diamond league record for both the 600m (1:13.71) and the 800m (1:41.54)
David Rudisha's Medals and Accomplishments
1. Olympic gold medal in 2012
2. World championship gold medal in 2011
3. African championship gold medals in 2008 and 2010
4. Inter-Continental cup gold medal in 2010
5. World junior championships gold medal in 2006
6. Africa junior championship gold medal in 2007
7. Diamond league overall winner for the 800m in 2010 and 2011
8. Commonwealth games silver medal in 2014
The year's between 2010 and 2012 found Rudisha in his prime and injury free. It was during this period that he created his legacy. During this period he was not just winning races, he was winning in thoroughly dominant fashion, leading from start to finish, often not requiring a pace-maker and beating the field by at least 10 metres each time. It was during this period that he set numerous records and won several gold medals
His most memorable performance came at the 2012 Olympics. He completely dominated the race, obliterating the field and setting a new world record without needing a pace maker. Thanks to Rudisha dragging the field, almost everyone in that final set a personal best. It was voted by many as the best performance at the 2012 Olympics in all the sports.
Early Life
Rudisha was born in Kilgoris, Narok District. His father is Daniel Rudisha, who won a silver medal while representing Kenya in the 4 X 400m at the 1968 Olympics. The person most credited with moulding Rudisha into a world class athlete is Brother Brolm O'Connell, an Irish missionary and Geography teacher at St Patricks Iten school who has also moulded numerous world beaters. "I don't know where I'd be without him." Rudisha once said.
Brother O'Connell first noticed Rudisha when the latter was 14 and competing mostly in the 400m in a bid to emulate his father. He encouraged Rudisha to switch to the 800m. The following year, while running on a dirt track, he clocked 1mins 49.6secs in the two lap event, an amazing time for a 15 year old running on a dirt track.
Rudisha first announced himself to the world when he won the 800m at the 2006 world junior athletics championships in Beijing with a time of 1:47.60. In 2007 he closed his juniors career by winning the African junior championships in 1:46.41.
Senior career
Though he won the African championships in 2008, his performance that year was underwhelming. He did not qualify for the Olympic games. And it seemed he was taking a back seat to Sudanese runner Abubaker who had run the fastest 800m time of the year at 1:42.69 over a second faster than Rudisha whose personal best at the time was 1:43.79.   And Kaki was a year younger than Rudisha. Many thought he was going to be one among many athletes who shone at junior level but could not translate that promise to senior level.
The year 2009 did not start well for Rudisha. He qualified for the World Championships but only went as far as the semi-finals. A poor tactical race caused him to miss the finals by only 0.07 seconds.
However later that year, he started to show signs of greatness. In September 2009, he broke the African record, previously held by Sammy Koskei by clocking 1:42.01. The record had lasted 25 years. It was Rudisha's first major record and a sign of things to come. He was finally fulfilling the potential he had shown as a junior.
On 10 July 2010, Rudisha ran the 800 m in 1:41.51 at the KBC Night of Athletics in Heusden, Belgium; this new personal record placed him No. 2 all-time in the world for the 800 m.
On 22 August 2010 Rudisha broke Wilson Kipketer's 800 m World Record two days before the anniversary of that record with a time of 1:41.09 while racing in the ISATF meeting in Berlin. Just a week later, he broke the record again at the Rieti Diamond League Meeting, lowering it to 1:41.01
In November 2010, at the age of 21, he became the youngest ever athlete to win the IAAF World Athlete of the Year award. He also won the Kenyan Sportsman of the Year award.
He finally won his first major global title when he won the 2011 world championships soundly beating his arch-rival Abubaker Kaki into second place and Russian veteran Yuri Borzakovsky into 3rd place.
His defining moment came at the 2012 Olympics when he led the race from start to finish and in winning the race, did not just break the world record but also became the first person to break the 1:41:00 barrier, one of the iconic barriers in the world of athletics.