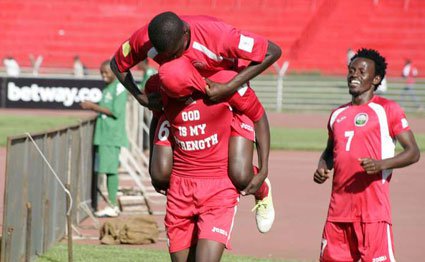 Against all odds, Kenya'a Harambee Stars pulled off a shock 1-0 win over Cape Verde in the opening match of the 2018 World cup qualifiers. No one gave Kenya a chance given the shoddy preparations in which the players assembled only two days before the match and did not play any friendlies. Player morale was also down because not only are their allowances not being paid, but also overseas based players are being asked to foot their own travel expenses. And the Harambee Stars had dissapointed fans when they put on a listless display
Cape Verde for their part are a star studded side. All their players ply their trade in Europe. They have qualified for the last two Africa Nations cup and were ranked at number 32 in the FIFA rankings, a sharp contrast to Harambee stars who are ranked at number 125, a good 92 places below Cape Verde.
Despite all these odds and despite fans having given up on them, Harambee Stars did not just beat Cape Verde 1-0, but they dominated the game and would have won by a larger margin had they converted their chances. Cape Verde coach, Rui Aguas who was the top scorer in the European champions cup in 1988 admitted that Kenya were the better side.
"Kenya deserved the win,they played better than us and created more chances but I`m optimistic that we still have a chance"
Coach Bobby Williamson got his tactics right, deploying a 4-2-3-1 system with Finland based Clifton Miheso and Kevin Kimani operating on the flanks to take advantage of their speed. It was Miheso's cross that was headed home by Michael Olunga. Debutant Mohamed Mbongi also acquited himself well as did grizzled veteran Anthony Akumu and the defensive pair of David Owino and Harun Shakava.
If Kenya can play this well against a quality side despite poor preparations then how well can they play with decent preparations.
What if the government organized training camps instead of sending them to Brazil on holiday?
What if the FKF organized quality friendly matches to allow the team to gel as players have been pleading for?
And what if the players were incentivized instead of making them pay for their own airline tickets?
And going a step further what if there were proper youth development structures in the country?
The highest FIFA ranking Kenya ever achieved was in 1998 at the height of Fabisch mania. Back then they achieved a FIFA ranking of 68. In 1983, Kenya achieved an ELO ranking of 60. This was after they won the CECAFA cup for the third time in a row.  The current team is quite capable of rising to the top 60 in the world if given proper support.