Come the 1990s , the downturn in the country's economy was taking its toll on most of Kenya's self supporting teams including AFC leopards. Many of the players who had featured in the crack squads of the 1980s had either retired or left to search for greener pastures. These included Omar Shaban, Wilberforce Mulamba, Keffa Tasso, Wycliff Anyangu, Dan Musuku, John Shoto Lukoye among others. Also due to economic reforms, AFC Leopards could no longer attract the top players by promising them jobs at parastatals unlike the 1980s when the likes of Abbas and Musuku were employed by Kenya airways and other parastatals.
John Busolo was now the teams first choice goalkeeper. William Inganga was the main hammer upfront. In 1990, Leopards lost in the first round of the Africa champions cup to Algerian outfit, Jeunesse Sportiff Kabylie. On the local front, they lost the national title to arch rivals Gor Mahia who also won it in 91.
In 1992 , the arrival of multi millionaire patron , Cyrus Jirongo rejuvenated the club. Thanks to Jirongo's generous handouts, leopards were well off financially and were able to acquire the talents of several outstanding players, among them , national team stopper Musa Otieno then still a from 3 student at Jericho high school and , Francis Oduor. They however lost in the first round of the cup winners cup to arch nemesis, National of Egypt. Leopards went on to win the national title, securing a continental berth.
Come 1993 , leopards lost the national league title to Gor Mahia and were eliminated in the first round of the champions cup by Zambian team , Nkana Red devils, a team which provided the bulk of the Zambian national team that perished in a plane crash only months later.
In 1994 they managed to reach the quarter finals of the CAF cup.
When Cyrus Jirongos financial fortunes took a tumble , so did AFC Leopards. They did not win the national title again until 1998. In that year AFC had restocked their unit with a number of excellent players like James Kayimba from Sierra Leone, Peter Kakonge from Congo, Paul Ochieng from Gor Mahia and the up and coming Titus Mulama.
By 1999 however however the club was in bad shape financially and could not hold onto any quality players. In 1999 they lost in the first round of the Africa champions cup to lowly Mukura Victory of Rwanda.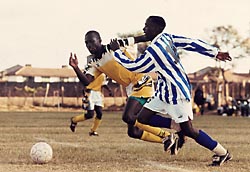 AFC takes on Kisumu Telkom at Nyayo stadium.