Come 1986, Both AFC Leopards and Gor Mahia faced a rude awakening when they were both eliminated from the preliminaries of the CECAFA cup which they had dominated for nearly 10 years. Later that year, AFC leopards were to suffer their most humiliating defeat when they lost 6-0 to Egyptian outfit, Al Ahly. Despite winning the second leg 2-1, they were eliminated. Club chairman , Alfred Sambu was suspended amid allegations of attempted bribery of the Match referee.
Leopards however regrouped to win the national League in convincing fashion. New Players like Ben Gachie from Re Union, Dann Musuku and Peter Owade "Zimbo" from Motcom and Wycliff Anyangu from Bata Bullets teamed up with the regular veterans to form a fomidable unit.
On the continenetal scene they beat Vital O of Burundi in the first round of the Cup winners cup before loosing to FC Kalamu of Zaire in the second round. In 1988, in addition to hiring reputable Ghanaian coach, Charles Gyamfi, the club embarked on one of the heaviest recruiting drives in the clubs history, in a bid to emulate arch rivals Gor Mahia who had won the cup winners cup the previous year. That drive resulted in the arrival of Davis Oyiela, Norbert Anyira and Hassan Juma , all from Volcano United which had been disbanded, as well as a host of youthful players like Joseph Weke ,and Sammy Simiyu who was in reality a Tanzanian who adopted a Kenyan name .
Add this to players like Omar Shaban in goal, Mickey Weche and Wycliffe Anyangu in defence , John Shoto Lukoye and Keffa Tasso in midfield , Dan Musuku , Wilberforce Mulamba and Patrick Shim in attack, and you had a galaxy of stars capable of challenge any team on the continent. And challenge they did.   Midfield ace John Shoto Lukoye (left) was a force to reckon with at linkman. In the opening round of the cup winners cup, they pelted Caps United 5-1 on aggregate. In the second round, they beat FC kalamu of Zaire 4-1 in the opening leg in one of the most dramatic games in Kenya's history. Zairean striker Lutumba Menga , after being sent off by the referee, proceeded to plant two slaps on the refrees cheek , before assaulting Geoge Olubendi on the AFC bench before being wrestled down by security officials.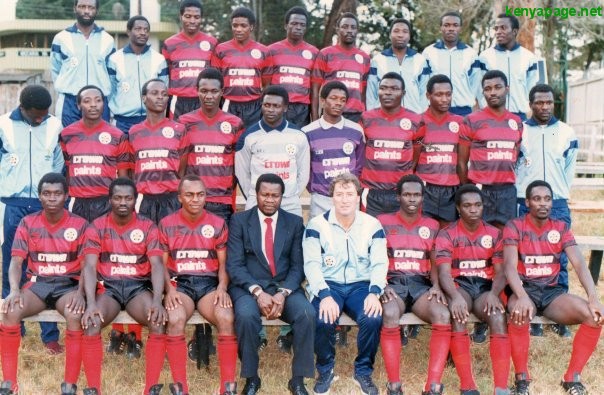 Despite losing the second leg 2-0, Leopards proceeded to the next round., where they met Diamant of Cameroun. They won the first leg 1-0 in Nairobi. In the return leg in Yaounde, they came up against a heavily biased referee who not only ejected Wycliff Anyangu under suspicious circumstances, but also awarded Diamant a dubious penalty at the end of the game which secured a place in the semi finals. Leopards nevertheless recovered to win the National League in grand style. This was the formidable AFC leopards unit that won the league unbeaten in 1988.
In 1989, leopards beat Inter club of Burundi in the first round of the champions cup before losing to Al Mourada of Sudan in the second round. Despite this early exit, they successfully retained the national league title.