The first decade of new millennium were mostly years of pain and anguish for AFC fans. Constant infighting and poor organization amongst club officials assured that the club hit rock bottom. By around 2005, the club had been relegated to to lower divisions, only to be saved by backroom deals. Finally in 2006, the club was indeed relegated and found itself playing in the Kenyan second tier. Whereas in the 1980s, AFC played to large crowds in large stadia all over Africa, whereas in the 1980s, the name AFC sent shivers down the spines of opponents all over Africa, the club was now playing in run down fields with no terraces against no name teams. And they were still struggling.
In 2007, AFC were to miss out on promotion when they finished behind Eldoret Mahakama in the nationwide league. However Mahakama were disqualified and this paved the way for AFC to return to the Kenya Premier league. AFC were thus promoted back to the Kenya premier league. The timing was good since the league was going through a revival in fortunes thanks to better organization.
When AFC returned to the Kenya premier league in 2008, they were received emotionally by their long suffering fans who were simply happy to see the team back in the top tier. AFC matches were well attended with scenes nad passion sometimes matching that seen in the 1980s. AFC strengthened their team by signing new players such as the exciting Congolese duo of Itubu Imbem and Demonde Selenga.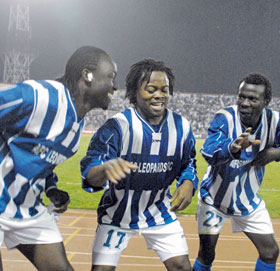 Itubu Imbem, Demonde Selenga and Joseph Okumu celebrate a goal against arch rivals Gor Mahia
In 2011, AFC landed a landmark sponsorship deal with the Mumias Sugar company. The deal was worth Ksh 15 million per year. AFC were required by the deal to move some of their home matches to the Mumias Complex. That same year, Dutch coach Jan Koops arrived to help revive the fortunes of the club.
In 2012, national team striker, Allan Wanga who had professional stints and Eastern Europe and Vietnam joined the team as did the free scoring Mike Baraza to form what seemed like a formidable partnership upfront. The dependable Eric Masika joined from arch rivals Gor Mahia to shore up the defence. AFC Led the league standings for most of 2012 before being passed at the last moment by Gor Mahia and eventual winneres Tusker FC