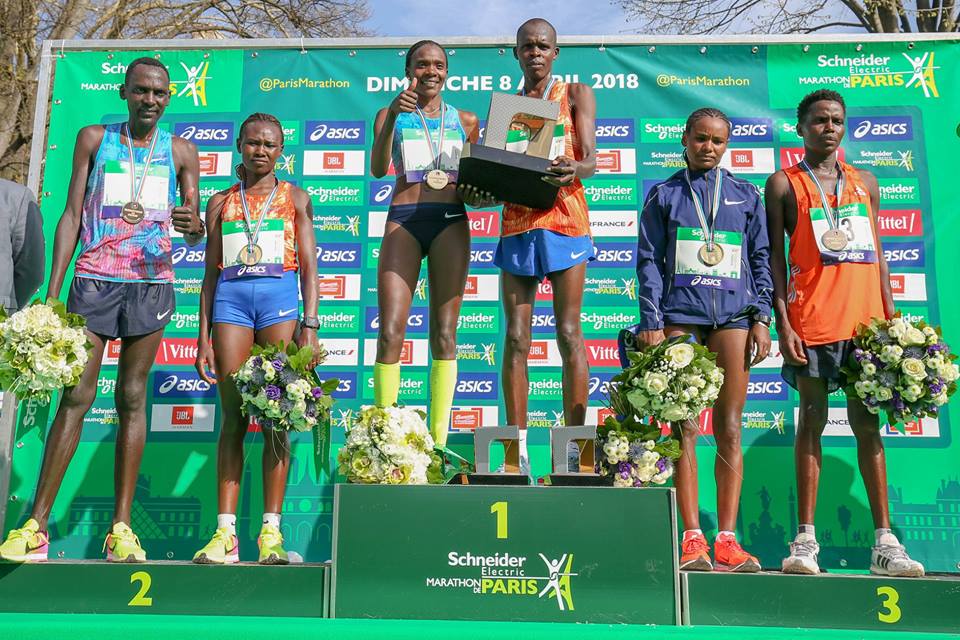 Paul Longayata became the first man to win back to back Paris marathon titles since Steve Brace of Britain did so in 1990. He clocked 2:06:25 to lead a Kenyan 1-2-3 sweep.
Longayata made his forst move at the 26km mark and it was matched by compatriot Mathew Kisorio, who then shot out of the lead pack,  Ernest Ngeno, and Ethiopia's Yitayal Atnafu. Longayata then made another surge at the 40km mark and was able to shake off his competitors.
"It's a wonderful day for me. I love Paris so much," said a delighted Lonyangata
In the women's race, the winner was Betsy Saina who clocked 2:22:55. The 30 year old Saina was a last minute entry. She is new to the marathon after a lengthy career on the track that included running in the NCAA.
Saina made her decisive move at the 38km mark, opening a small gap over Ruth Chepngetich and Gulume Chala. Chepngetich charged back but Saina was able to hold her off.
"I'm so happy," Saina said. "Paul (Lonyangata) pushed me a little bit (when he caught up with her). It's really good to win my first marathon."
Leading results:
MEN
1. Paul Lonyangata (KEN) 2:06:25
2. Mathew Kisorio (KEN) 2:06:36
3. Ernest Ngeno (KEN) 2:06:41
4. Yitayal Atnafu (ETH) 2:07:00
5. Eliud Kiptanui (KEN) 2:08:20
WOMEN
1. Betsy Saina (KEN) 2:22:55
2. Ruth Chepngetich (KEN) 2:22:59
3. Gulume Chala (ETH) 2:23:06
4. Ashete Bekele (ETH) 2:23:27
5. Stella Barsosio (KEN) 2:23:43